EMR
Atlas.md is first and foremost a groundbreaking EMR. One that can be used to meet HIPAA compliance regulations, but doesn't need to rely on it. It helps YOU spend more time with your patients, provide more exceptional care, lower your practice overhead and it integrates current social media and fitness applications. That's more powerful than any Meaningful Use incentive.
Cross platform compatible
Atlas.md features responsive design, meaning you can jump from your desktop, to your tablet, to your mobile phone and keep a consistent EMR experience. Atlas.md is browser-based, meaning it will work on nearly all the devices you're likely to be using nowadays. No need to install servers, or terminals, or anything physical for that matter.
Charting
Comprehensive, accessible patient records—current prescriptions, allergies, recent tests, critical notes and more. Get a complete picture of your patient in seconds.
Helpful with details
Atlas.md is a powerful practice management tool. One that can help reduce overhead and staffing, and maximize your ability to be self-sufficient. It even stands to increase revenue, provide patients with more secure medical records and allow you to spend more quality time with your patients.
Scheduling
Plan your day, book appointments, set recurring visits and schedule follow-ups using Atlas.md's integrated calendar. That means you can access it and set reminders from the devices you're most comfortable using.
Self-scheduling
Invite patients to self-schedule appointments and reduce time spent managing consultations. This allows you to open up your calendar ahead of time and choose time slots that suit both patients and staff, removing unnecessary phone calls and emails from the process.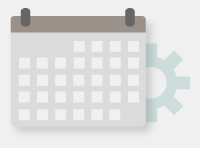 Room to grow
Add a new doctor, nurse practitioner or staff member to your account quickly and easily. Getting even bigger? That's great! Atlas.md supports multiple locations, and accounts for every detail involved with running your practice in more than one place.
Storage
Atlas.md requires NO ADDITIONAL HARDWARE. There's nothing physical to install, none of those expensive, generally outdated terminals or servers. Plus, we don't set storage limits on accounts so feel free to keep thorough patient records.
Security
Atlas.md takes security very seriously. Thanks to features like encryption throughout the application, automatic logouts after periods of inactivity, two-step authentication on login and password reset reminders, rest assured your information is very well protected.
Rx. eRx.
EMRs can be so confusing that you end up writing prescriptions the old fashioned way – on paper. Atlas.md, through its integration with DrFirst and Rcopia, simplifies the process, guiding you and documenting every step along the way. Find the pharmacy nearest to your patient and select the prescription and quantities. Atlas.md will take care of the rest, including sending an email to your patient as verification. Dispense medications yourself if you prefer. Inventory management, pharmacy favorites, print labeling, and automated refills are all possible.
Prescribe
Dispense
Wholesale/retail price lookup
Keeping inventory
With Rcopia, DrFirst's integrated e-prescription software, managing your in-house pharmacy is made easier by intuitive inventory management. Know when you're low, see how much you have left, and receive notifications when action needs to be taken.
Staying informed
Always be in the loop any time a pharmacy has a notification for you. You'll receive notice in the Prescriptions tab of your Atlas.md account where you can review these notifications, or log in to Rcopia and take action if necessary.
Sync histories
Any action or prescription made while using Rcopia will automatically reflect in Atlas. This means your prescription history and current medication lists will always remain current and accurate without manual intervention.
PDMP enrollment
Keep track of the dispensing of controlled substances. Once you've registered with DrFirst as well as your state Prescription Drug Management Program, you'll then be able to access your PDMP.
Billing
Atlas.md puts you in charge of your revenue stream. It's built for doctors practicing a subscription model of care with additional costs. Subscribers will be billed monthly and sent an electronic monthly statement indicating any additional charges. On top of that, Atlas.md tracks phone, email and text correspondence by patient, so everyone knows how much time you've allocated to their care. Allow your patients to pay online, making your patients' lives more convenient, and your revenue more stable.
You can handle billing internally or use a third party accountant; billing reports provide the information you need to do both well.
Invoicing, itemized billing & bill pay
ACH payments
Apple Pay support
Set recurring fees and service fees
Fixed-rate & flexible subscriptions
Billing management for patients
Detailed reporting
Employer billing
Transition with ease
Making the switch from a traditional practice or other EMR and have a stack of patient charts to bring with you? No problem.
Atlas.md has a patient importer tool that allows you to transfer all your existing patient information in a few simple steps. It's exactly the kind of intuitiveness you can come to expect.
Begin using Atlas.md right away
Pick up where you left off
CSV is readable by Excel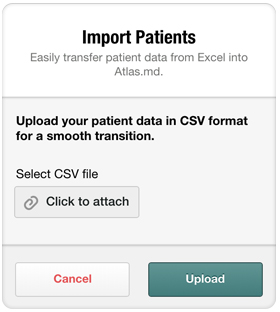 Connect with patients using the Patient Hub
The Patient Hub lets patients interact with your clinic from their own integrated account, providing them with communication, self-scheduling, payment, and billing management tools.
Learn More
The Patient Hub also works seamlessly with the
Atlas.md Patient App
. Once downloaded, patients can access the Patient Hub directly from their devices.
Hundreds of lab integrations
Your favorite lab provider should be the one you use, which is why you can integrate directly with Quest or LabCorp. Plus, Atlas.md partners with ELLKAY to integrate with hundreds of other regional labs. Your lab, your choice.
Build and maintain a relationship with your lab provider
Order labs directly through Atlas.md
Organize lab panels based on tests you order most frequently
Order tests, pay, and print postage right from your office
Mail samples yourself, or send your patient fully equipped to their lab facility of choice
Send results to the patient's chart
Automatically include invoices on the patient's monthly billing statement
Import lab results from LabCorp and Quest Diagnostics directly into Atlas.md as easy-to-read data
Ask Atlas
Harness the power of artificial intelligence using AI prompts. Summarize notes, transcribe patient conversations, generate SOAP notes, and so much more.
Expert consultations whenever you need them
Atlas Consult connects primary care providers with specialists for remote medical opinions. It's integrated directly into Atlas.md, allowing you to interface directly through your EMR account.
About Atlas.md
EMRs should free up time to spend with patients, not leave you buried in stacks of paperwork.
The EMR marketplace is cluttered with lackluster products incentivized by Meaningful Use. Most wind up being un-meaningful and useless – not to mention expensive and cumbersome to install. Atlas.md offers a time-saving, intuitive EMR experience that works equally well on ANY device: desktop, tablet or mobile phone.
Create, manage and review patient files like you would with today's websites and apps. Follow patient history – vaccines, prescriptions, allergies, everything! – within comprehensive, easy-to-navigate profiles. You can even communicate with your patients however they feel comfortable: phone, SMS, email, social media, and automatically archive written messages within their profile for later reference (with patient authorization).
Atlas.md is more than just a pretty EMR. It's also practice management software so versatile you can manage your office without any help most of the time. Schedule appointments, handle patient billing and track invoices anywhere you're connected. This software gives you complete flexibility to be your own boss, run your own practice and use your time to see patients, not endless stacks of paperwork.
Atlas.md can be used in a HIPAA-compliant manner. However, it's not eligible for Meaningful Use incentives and wasn't built to help you receive government funding. Instead, we built Atlas.md to help you do your job better so you can earn more income, pay less overhead and find infinitely more satisfaction in your work. We're offering all that for a flat monthly cost that shakes out to less than half of the initial investment required by leading market competitors. *
* A one-year subscription for one doctor would cost $3,600. According to ONC, the average EHR costs $33,000 to set up and costs $4,000/year thereafter. Atlas.md requires no additional hardware; it's compatible with most desktops, tablets and smartphones.